Histories of Stoke Gifford
April 2010 version 3.4
You can email me via my home page.

This aim of this history compiled by Adrian Kerton is to bring together the history of Stoke Gifford that is scattered around various institutions and to capture memories and memorabilia of the local residents. It is available as a CD/DVD distributed at cost as much of the information is copyright and the owners have allowed the information to be reproduced here as long as the CD is sold at not for profit. I am continually gathering more information for the next version. Do not copy any information to your website but please provide a link to our website.

This project has been supported with a grant from The Millennium Awards Trust
Navigation
You can navigate through the pages by using the links on the left hand side of the page. When you open a page it will open in the main frame and you can use the 'Back' button at the top left hand side of the page to return to the previous page.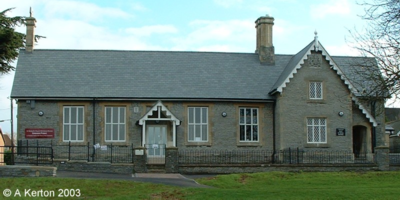 The word Giffarde meant one with round cheeks and double chin in Norman times. In Saxon, Stoche meant property of, or dependent farmstead, and at the time of Domesday, the Manor was held by Osbern Giffard, a supporter of William the Conqueror.
Hence we have Stoche Giffarde.
Stoke Gifford in Domesday



Courtesy of - domesdaymap.co.uk
Stoke Gifford
Hundred: Letberge
County: Gloucestershire
Total population: 16 households (medium).
Total tax assessed: 5 geld units (quite large).
Taxable units: Taxable value 5 geld units. Taxed on 5.0.
Value: Value to lord in 1066 £6. Value to lord in 1086 £8.
Households: 8 villagers. 3 smallholders. 4 slaves. 1 priest.
Ploughland: 4 lord's plough teams. 8 men's plough teams.
Lord in 1066: Dunn of Brimpsfield.
Lord in 1086: Osbern Giffard.
Tenant-in-chief in 1086: Osbern Giffard.
Phillimore reference: 50,2
Translation of the Domesday for Stoke Gifford.
Opens PDF Document
STOKE-GIFFORD, Gloucestershire - Extract from National Gazetteer, 1868
A parish in the upper division of Henbury hundred, county Gloucester, 5 miles N.E. of Bristol, its post town, and 3½ N.W. of Mangotsfield railway station. The village, which is small, and chiefly agricultural, is situated on the road from Bristol to Gloucester. The soil is of a clayey nature, with a subsoil of brown limestone. The living is a vicarage in the diocese of Gloucester and Bristol, value £60. The church, dedicated to St. Michael, is an ancient structure with a tower and three bells. The parochial charities produce about £37 per annum. There is a village school for both sexes. The Duke of Beaufort is lord of the manor and owner of the soil.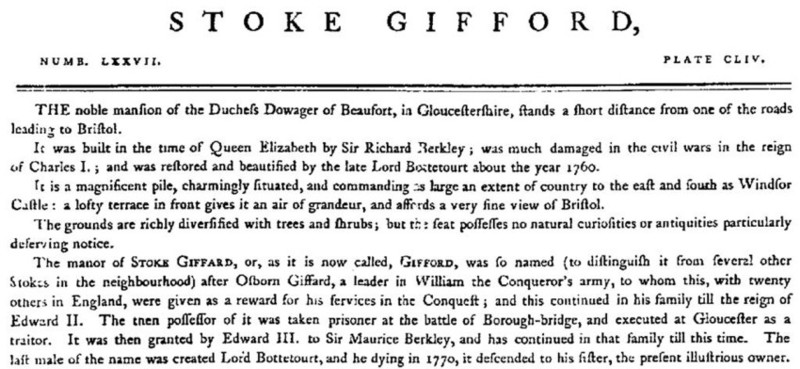 Also on this CD are the Walks Around Stoke Gifford. 6 Illustrated and Annotated Walks Booklets - Free. Produced by the Parish Council and Dennis Richards. Printed by South Gloucestershire Council.
This CD is Copyright Adrian Kerton and the holders of any copyrighted material included.
Some names around the parish from 1345, from notes by Mike Stanbrook
| | | | |
| --- | --- | --- | --- |
| Hammeysyate | Wodemede | Blak forlong | Stoney forlong |
| Lockesleyes forlong | Russmedford | Walshshawesmede | Inwode |
| Lockesleyesquarter | Pylquarter | Walforlong | |